Mentoring Future Jewish Leaders Since … Pretty Much the Beginning.
Mentor-protégé relationships have sculpted Jewish scholars since the days of Moses and Joshua. Joshua rocked that mentorship, by the way, going on to earn a "blessing of invincibility." But we digress.

The Sinai Scholars Society Mentor-Protégé Program carries on this tried and true Jewish tradition today. It unites driven students and master scholars for creative collaboration and one-on-one mentoring. Students come out much stronger Jews (invincibility not guaranteed).
the modern-day relevance of a thought-provoking Jewish topic.
your creative approach and write an original research paper.
your paper with university professors, leading business people and rabbis.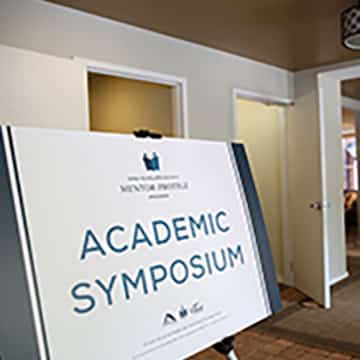 Why go solo? When selected for the mentor-protégé program, a master mentor guides you through the process of writing your research paper.
Mazel Tov on your modern contribution to traditional Jewish scholarship. We look forward to reading your mentor-protégé research paper.
View Library of Past Papers
Learn from those who share your similar path by scanning our library of winning past papers. Perhaps yours will be next to join the them.
Program and Symposium FAQs
Who is eligible to join the Sinai Scholars Mentor-Protégé Program?
Any university student with worthwhile ideas, strong work ethic and creativity.
How does the program work?
You will submit a short one-to-two page proposal online, detailing a Jewish topic of interest to research and explore. A member of the Sinai Scholars Society staff will put you in touch with the mentor who will be helping you with your paper. Finished papers will be reviewed by an academic panel and finalists will present their ideas before scholars and business people at a national symposium.
What is a proposal?
A topic and bibliography.
How does the mentoring process work?
Sinai Scholars will connect you with a suitable mentor to review your initial proposal. Together, you will discuss the goal and direction of the paper, develop an innovative approach and fine-tune your idea in order to articulate its modern-day applications. Mentors offer guidance regarding sources, additional ideas, structure and general feedback. Students and mentors will meet in person, over the phone, or online about three or four times during the research and writing process.
Who are the mentors?
Program mentors include Jewish university professors, academics, scholars and leading business people.
What should my paper be about?
Topics may build upon something you have learned during Sinai Scholars or from another Jewish class. It may be a question you have always pondered but never had a chance to pursue. It may relate to something you have read or heard about. You may want to compare Judaism's view on a given topic with other popular sources or perspectives. Your paper can address an event in history, a mitzvah, a moral or ethical dilemma, current events, famous personalities, a lifecycle event, social issues, matters relating to personal growth or personal reflection, among others. Topics can include medicine, history, law, business, philosophy, science, Israel, psychology, Kabbalah, Jewish holidays, politics, economics, current events, fine arts, writing or sociology. Sample papers are available online.
How long does my paper need to be?
Papers must be 2,000 words minimum, following mainstream academic writing styles such as MLA, Chicago or APA. Eligible papers will be entered in the national competition.
When are the papers due?
Details to be confirmed. Stay tuned.
How are the finalists selected?
A committee of business leaders, professors, and rabbis will select the papers to be presented. Judging is based on insight, analysis of Torah sources, conceptual organization and original thought regarding the application of Torah ethics in today's world. Your topic should be thoroughly discussed in both secular and Judaic areas. We are looking for any idea you have related to Sinaitic (of or relating to Mount Sinai) wisdom for the modern age presented in a unique, stimulating way. Feel free to get creative. Students who are chosen as finalists will be invited to present their ideas at the Sinai Scholars Academic Symposium.
How will participants of the program know if they are selected as finalists?
The Sinai Scholars administration will contact you to let you know if you have been chosen as a finalist.
When will the presentations take place?
Presentations will take place at the Sinai Scholars Academic Symposium.
Where will the Symposium take place?
Details to be confirmed. Stay tuned.
What happens at the Symposium?
The Symposium is your chance to network with the leading minds in our generation. Finalists attending the symposium will present their papers during a colloquium session. Winners will announced and receive a cash prize at an award ceremony at the closing event. Presented papers will also be published in the Sinai Scholars Academic Journal sent to universities worldwide.
When is the award ceremony?
The grand award ceremony takes place following the presentations and discussions. All student presenters, Symposium panelists, professors, rabbis and guests will be in attendance.
How much does it cost?
Finalists will be invited to attend the event free of charge. Travel expenses will be compensated.